Accessibility
---

Announcements
Vaccine Distribution Information
Please visit the Virginia Department of Health's website for the most current information about vaccinations. See below for current vaccination locations (most are appointment only):
City Buildings are Open
Click here for a list of office locations (some have changed), new COVID-19 procedures and ways to Skip the Trip and access City services remotely.
Current Mask Rule
Governor Northam has implemented a universal mask requirement making face coverings mandatory for everyone age 5+ while indoors around others (except when eating) and outdoors when six-feet social distancing cannot be maintained (as of 12/10/20).
Testing Sites
Click here to search for testing sites in your area.
COVIDWise App
Add your phone to the fight. COVIDWISE is Virginia's official exposure notifications app that lets you know if you've likely been exposed to another COVIDWISE user with a positive COVID-19 test result. Click here for more information and to download.
Question or Concern?
Do you have a question or concern relating to the COVID-19 pandemic locally? Submit this online form.
---
Practice the 3 W's with Mayor Smith
Wait (maintain six-feet of distance between you and others)
Wash your hands regularly
Wear a face mask
---
COVID-19 Information
The City, CDC, Virginia Department of Health, and the Lord Fairfax Health District (LFHD) are closely monitoring the international outbreak of coronavirus (COVID-19) and working with healthcare partners at the state and federal level.
Coronavirus is a new virus that has caused an outbreak of a respiratory illness. It was first detected in Wuhan, China in late December 2019. It's spread through close person-to-person contact (within 6 feet), respiratory droplets that are then inhaled (ex: when someone doesn't cover their mouth when they cough or sneeze), and possibly from touching contaminated surfaces. 
Case Counts
Information Resources
Virginia Department of Health's COVID-19 information hotline (available 24/7): (877) ASK-VDH3 or (877) 275-8343.
Rely on the below sites for up-to-date and accurate information.
Frequently Asked Questions
| Topic | FAQs |
| --- | --- |
| Coronavirus (CDC) | Link |
| Wearing a Mask | Link |
| Phase III | Link |
| COVID-19 Vaccine | Link |
---
What To Do If You Are Sick
If you have a respiratory illness or symptoms, or think you have been exposed to COVID-19, you can call the COVID-19 Respiratory Care Phone Line at 540-536-0380. 
If you are sick:
Stay home except to get medical care or food and wear a good face mask
Separate yourself from other people in your home (home isolation)
Call ahead before visiting the doctor
Wear a face mask when you are around other people 
Cover your coughs and sneezes
Wash your hands often
Avoid sharing personal household items
Clean all "high-touch" areas everyday
Monitor your symptoms and know when to seek medical attention
Click here for more details from the CDC.
---
Food Pantries & Services
Food Pantries & Banks
Click here for a list of food pantries in the area.
Visit VAFoodBanks.org for a list of food banks in Virginia.
Text FOOD or COMIDA to 877877 to learn more about feeding sites near you.
Social Services
SNAP - Starting May 29, 2020, Virginians who receive SNAP benefits will be able to pay for their groceries online and have them delivered, after the USDA approved Virginia to participate in an innovative online purchasing pilot program. More Info
Resources App - The Virginia Department of Social Services has launched COVID-19 Virginia Resources, a mobile app and dedicated website to provide a one-stop switchboard for all of the benefits, resources and programs Virginians need most right now. Visit http://COVID.Virginia.Gov and download the app today.
Virginia Department of Social Services COVID-19 Website
---
Doing Business with the City of Winchester
Local residents and businesses can conduct business with the City using the following resources:
Online - Visit www.winchesterva.gov for information, forms, etc. The direct link to the City's online bill pay options is www.winchesterva.gov/bill-pay.
Phone, Email or Mail - For the staff and department directory, visit www.winchesterva.gov/department-listing.
Drop boxes - Drop off correspondence, completed forms, payments, etc. at drop boxes located outside City Hall (N. Cameron Street side), & Creamery Building (for Commissioner of the Revenue & Treasurer-taxes, business licenses, dog tags). For social services documents, use the drop box outside the WDSS office at 24 Baker Street.
---
COVID-19 Updates
Scroll down for updates from and regarding the City of Winchester or click here.
February 24, 2021 - Governor Northam announced that indoor capacity limits are to remain the same but certain outdoor sports and entertainment venues may begin to operate at increased capacity starting Monday, March 1, 2021 (see graphic below). He amended Executive Order 72 with the next steps of the "Forward Virginia" plan to safely and gradually ease public health restrictions while mitigating the spread of the virus. More Info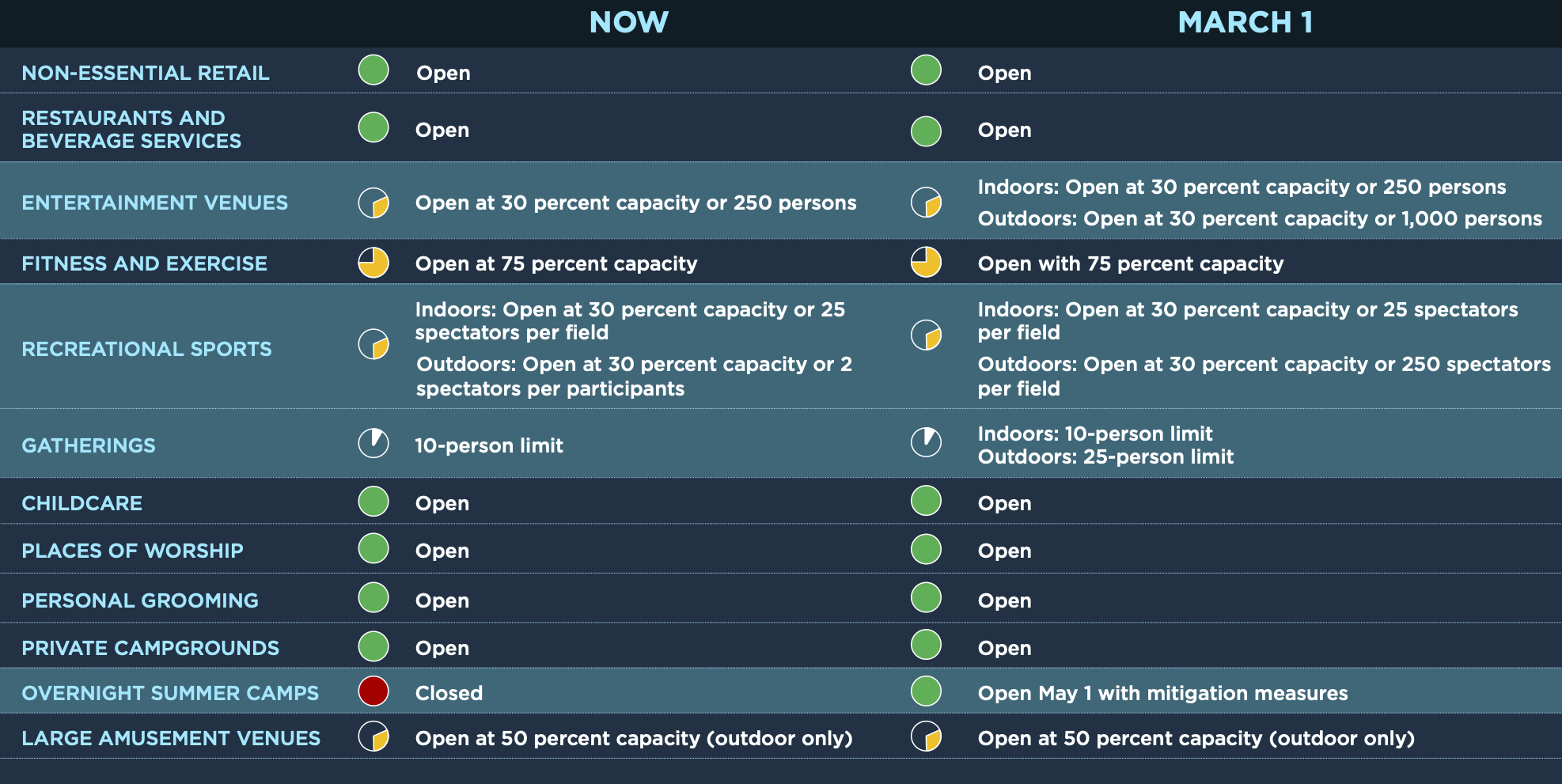 January 27, 2021 - Governor Northam also announced COVID-19 workplace safety and health standards are now permanent. More Info
January 27, 2021 - Governor extends mitigation measures (implemented on 12/10/20) through February 28.
December 10, 2020 - Governor implements new mitigation measures to slow COVID-19 in Virginia as positive cases and hospitalizations are skyrocketing. The below measures go into effect at midnight on Monday, December 14. More Info

Modified Stay at Home Order - All Virginia's must remain at home between 12-5 am. Exceptions include obtaining food and goods, traveling to/from work or seeking medical attention.
Universal mask requirement - All residents ages 5+ are required to wear a mask in indoor settings shared with others and when outdoors within six-feet of another person.
Reduction in social gatherings - Must be limited to 10 people (down from 25) regardless of whether they occur indoors or outdoors (does not apply to religious services, employment settings or educational settings, restaurants or retail stores).
Teleworking - Employees that can telework are strongly encouraged to do so.

November 18, 2020 - There is a moratorium in effect for residential utility disconnections, pursuant to House Bill 5005, otherwise known as the Commonwealth of Virginia Budget, Section 4-14, Enactment 7(a). This moratorium means that utility companies can not disconnect you for nonpayment of your electric bill or fees during the period of the COVID-19 pandemic public health emergency. This does not mean that your electric bill is not due, or that amounts due to us are being waived or forgiven. This moratorium will continue until the State Corporation Commission issues an order exempting the Cooperative from the moratorium. It will also end if the Governor determines it is unnecessary or until 60 days after the public health emergency ends. For SVEC, residential payment arrangements will be available beginning January 4, 2021.
October 30, 2020 - Governor Northam announced that Virginia is allocating $30 million in federal Coronavirus Aid, Relief, and Economic Security (CARES) Act dollars to help Virginians whose employment has been impacted by the COVID-19 crisis pursue workforce training in a high-demand field. The new Re-Employing Virginians (REV) initiative will provide scholarships to eligible individuals to enroll in a workforce or community college program in five essential industries, including health care, information technology, skilled trades, public safety, and early childhood education. More Info
October 7, 2020 - Virginia announced additional funding for rent and mortgage relief. More Info
August 7, 2020 - Supreme Court grants temporary statewide eviction moratorium. More Info
July 27, 2020 - Governor Northam announced the launch of the Rebuild VA Grant Fund program. This new program is designed to help small businesses and non-profits whose normal operations were disrupted by COVID-19, including restaurants, brick and mortar retail, exercise and fitness facilities, personal care and personal grooming services, entertainment and public amusement establishments, and campgrounds. Businesses and non-profits that are approved for a Rebuild VA grant may receive up to three times their average monthly eligible expenses up to a maximum of $10,000. More Info
July 16, 2020 - CDC launches new website to provide information about how to prepare for natural disasters and severe weather during the COVID-19 pandemic. 
July 14, 2020 - Virginia adopts first-in-the-nation Workplace Safety Standards for COVID-19 Pandemic More Info
June 23, 2020 - Governor Northam announced that Phase III will go into effect on July 1, 2020. Guidelines
June 2, 2020 - Governor Northam announced that Phase II of the Forward Virginia reopening plan will begin June 5 (Executive Order #65). "Safer at Home" strategy remains, but several restrictions are lessened for certain establishments. Also, the group ban is increased from 10+ to 50+ people. Phase II Details
May 26, 2020 - Beginning May 29, Governor Northam has made face coverings mandatory for everyone age 10+ while inside retail stores, food/drink establishments, grooming/personal care, government facilities, public transportation, and anywhere people congregate. Exceptions: 1) while eating/drinking, 2) while exercising, 3) if you have trouble breathing or are unable to remove the mask without help, or 4) if your health conditions prohibit wearing a face covering. Executive Order #63
May 18, 2020 - Governor Northam initiated new resources to protect Virginians from eviction and support individuals who have lost their job or income due to COVID-19. These tools include StayHomeVirginia.com, a new website to help Virginians navigate housing programs, services, and resources. The website offers guidance on working with landlords, financial institutions, and other organizations to use eviction and foreclosure protections during this health crisis. Resources include relief for private mortgage holders, multifamily complexes, and tenants affected by the COVID-19 pandemic.
March 22, 2020 - Lord Fairfax Health District has first confirmed case. VDH News Releases
March 13, 2020 - President Trump declares State of Emergency for U.S.
March 12, 2020 - Virginia Governor declares State of Emergency and outlines additional measures to combat COVID-19. Read News Release
March 10, 2020 - The Lord Fairfax Health Department Director presented an overview of the Coronavirus to City Council. Review Presentation
January 30, 2020 - The World Health Organization (WHO) declared the virus outbreak a public health emergency of international concern (PHEIC).
---
Symptoms
The incubation time from exposure to showing symptoms is five days and in some cases 14 days, individuals who have been exposed but aren't yet showing symptoms are asked to self quarantine for 14 days. Those who are most affected or are the most at-risk are individuals:
over 60 years old
with a compromised immune system such as cancer, diabetes, or on immunosuppressive medication
are pregnant
in a nursing home or long-term care facility
with asthma
with HIV
The following symptoms may appear 2-14 days after exposure:
Fever
Cough
Shortness of breath or trouble breathing
Sudden loss of taste or smell
Persistent pain or pressure in the chest
New confusion
Bluish lips or face
If you have traveled outside the U.S. (or anywhere with widespread or ongoing community spread of conoravirus) and are experiencing symptoms or think you have been exposed to the coronavirus, VDH strongly urges you to NOT go directly to your doctor, urgent care or hospital.
Do the following if you meet the above criteria: 
Call VA Health Department's toll free line at 877-ASK-VDH3.
If you are severely ill, call 911, share your concerns with the dispatcher and EMS before making contact with personnel who respond. (Please do not call 911 or the City's non-emergency number for questions about COVID-19.)
---
Prevention
Health officials advise the steps you take to prevent the spread of the common cold and flu will help prevent coronavirus. The best way to prevent illness is to avoid being exposed to the virus and to get vaccinated. As a reminder, the CDC always recommends everyday preventative actions to help prevent the spread of respiratory diseases, including:
Avoid close contact with people who are sick.
Avoid touching your eyes, nose, and mouth.
Stay home when you are sick.
Practice social distancing. Avoid crowded areas and groups. This is especially important for people who are at a higher risk of getting sick.
Cover your cough or sneeze with a tissue, then throw the tissue in the trash.
Clean and disinfect frequently touched objects and surfaces using a regular household cleaning spray or wipe.
Follow CDC's recommendations for using a facemask.
Wash your hands often with soap and water for at least 20 seconds, especially after going to the bathroom; before eating; and after blowing your nose, coughing, or sneezing.

If soap and water are not readily available, use an alcohol-based hand sanitizer with at least 60% alcohol. Always wash hands with soap and water if hands are visibly dirty.
Click here for more information about handwashing.

Telework, if possible.
Remember to Care for Yourself
Self-care during this time will help your long-term healing. If you need emotional support, there is help available 24/7:
---
Local Travel Advisories
Winchester-Frederick County Convention and Visitors Bureau has created an online Travel Advisory web page to help locals, visitors and businesses during the pandemic. The site provides a central location for up-to-date information about special offerings from local businesses, attraction closings, postponed or canceled major events, travel guidance, and more. 
Shopping Tips
Minimize trips to the store - Making a list before leaving home can help make sure you get everything the first time.
No need to hoard - There is no disruption in supply chain, buy just enough for your family for a week or two.
Shop online - If you can afford to do your shopping online for either delivery or pickup, do it!
Restaurant pickup and delivery - Local restaurants may also. be open for pickup or delivery. Call before to check their status.
Protect yourself in public - Use sanitizer wipers on the carts and carry hand sanitizer if you can.
Social distance - Leave space between you and other shoppers or employees, at least 6 feet.
Leave the family at home - Send just one person to the store to do shopping to reduce public crowding.
As for help - If you are sick, ask someone else to help complete the shopping. Self-isolate at home!
---
City of Winchester Response/Announcements

Updates:
December 31, 2020 - All CARES Act utility bill/rent/mortgage assistance grants have been allocated.
December 8, 2020 - The City has launched a second CARES Act assistance program for those who have been impacted by COVID-19 and cannot pay their water/sewer bills. Also, the City has launched payment plan options for past-due water/sewer bills. More Info
November 2020 - The City is offering assistance to help residents affected by the COVID-19 pandemic get caught up on their past-due utilities, rent and mortgage payments. Visit the United Way NSV's website (managing the program for the City) to apply now! Funds must be allocated before December 31 and applications deadlines may be set before then. 
September 8, 2020 - City buildings reopened to the public. More Info
June 22, 2020 - Rec Center opens M/W/F from 9:30-11:30 am for informational inquiries, registrations and membership sales only. Hours change to M-F, 8 am-5 pm on July 8 (racquetball court opens, reservations recommended).
June 15, 2020 - Playgrounds, athletic fields and outdoor basketball courts open with physical distancing requirements. 
June 1, 2020 - Parking meter enforcement to resume in Old Town. The outdoor pool will open for lap swim and swim team practices only during designated times. Public Work's large item pick up will also resume.
May 29, 2020 - Winchester Parks & Recreation announces plans to open all-day summer camp beginning June 8 with limited capacity.
April 2, 2020 - Click here to read messages from Mayor John David Smith, Jr. and Lord Fairfax Health District Director Colin Greene. 
March 30, 2020 - Winchester Parks & Recreation closes outdoor basketball courts in Jim Barnett Park. 
March 26, 2020 - Winchester Parks & Recreation closes all park playgrounds (Jim Barnett Park and neighborhood parks) and athletic fields to the public.
March 26, 2020 - Mayor Smith cancels all non-regulatory City board meetings until further notice. Regulatory boards can meet if necessary and must follow CDC guidelines. 
March 24, 2020 - Public Works' large item and compost pick up is canceled until further notice. 
March 20, 2020 - The Winchester Parking Authority has suspended enforcement of the on-street and parking lot metered parking spaces until April 3, 2020. Hourly and monthly parking charges in the four downtown parking garages will remain the same. Metered parking is always free on weekends and 6 pm-9 am Monday-Friday. Whether or not to extend the suspension will be evaluated at a later date.
March 17, 2020

Released a COVID-19 Update Newsletter. Read
City Council approved a resolution (R-2020-13) to direct the City Treasurer and Commissioner of the Revenue to not impose penalties and interest upon certain local taxes (meals, transient occupancy and admission taxes) during the pandemic. This will allow businesses additional time to pay certain taxes without penalty, interest and collection activities. Council also strongly recommended that the City Treasurer not undertake collection actions upon any business that fails to pay any of the taxes subject to this relief. 
Interim City Manager declares State of Emergency as a proactive measure (no confirmed cases in Winchester at this time). Read News Release

March 16, 2020 - City buildings will close to the public beginning March 17, 2020. Please conduct business with the City via online, phone, email, mail or drop box. Several City events have been canceled.
March 13, 2020 - All public meetings through March 27 have been canceled. City Council will hold a special meeting on March 17 at 5 pm to discuss the City's response. 
---
My Community Worksheet
We are living through history. Kids: Mark this moment in your community's history and your life by completing this worksheet. It's a fun way to remember where and who you were during the COVID-19 pandemic.
---
Sources: CDC, Virginia Department of Health, Virginia Governor Northam's Office, Lord Fairfax Health District, World Health District (Since 3/5/2020 and updated regularly)